Join the 2022-2023 School Year Team!
Instructor: $27-33 DOE (certification not required)
Current Needs: Part-time German, Part-time French
Pacific Learning Academy is a year-round accredited private school and educational service that supports middle and high school students for either tutoring (academic support or test prep) or teaching core middle and high school courses (including languages). All of our lessons are 1-on-1, meaning we can quickly pivot and find the best way to support our students in their learning. Academic magic happens when a student has your full attention!
We work in student homes in the Sammamish/Issaquah area, at the Academy school office in Sammamish, or virtually via Zoom, when families request it. Instructors who are able to support multiple subject areas have priority consideration.
We require a "season" commitment (commitment through mid-June) and a consistent schedule to ensure continuity for our students.
What's in it for YOU to Work at Pacific Learning Academy?
Established (since 2005), teacher-owned, accredited school and educational support service
100% Satisfaction Rate from clients and an A+ reputation for quality, caring instructors and staff
Paid Drive Time between in-person lessons and a consistent weekly schedule
Books/resources provided at no cost to you and regular professional development/training
Medical/Vision/Dental Health Benefit option for eligible instructors
Minimum Requirements
4-year degree (or equivalent) as a minimum in any subject. Certification is not required.
Ability and interest in working with students of all abilities 6th to 12th grade, including AD(H)D
A warm and encouraging way of working with teens
Excellent English language skills (verbal and written)
Computer and internet capabilities for lesson documentation or remote lessons, if applicable
Reliable transportation for in-person tutoring (Sammamish/Issaquah homes & libraries)
Available afternoons/evenings at least 3x/week (Mon-Thurs are the most popular lesson days)
Weekend availability desired, but not required
Clean WSP background check
A minimum of 15-30 set (and consistent) hours you can make available to the Academy for the school year
Essential Abilities & Behaviors:
Proficient in all levels of the subject(s) you tutor/teach (to AP/IB level is best)
Able to communicate in a timely manner via official Academy email and texting
Motivated to become familiar with local district textbooks and curriculum
Positive, upbeat, and encouraging to students and with staff
Provide the kindest, most empathetic and quality tutoring/teaching experience our clients have ever had
Persuade reluctant learners to find joy in the subject again!
Working Hours:
Instructors set the daily parameters of their availability (e.g., Mondays from 2 to 6pm and Thursdays 4 to 8pm). The Academy works to fill the hours you've opened for our students and your schedule depends on your subject expertise and rapport with certain types of students.
If you can effectively teach

high levels of 2 or more in-demand subject areas

, there is room to grow into 20-30 hours/week or more.
During the academic school year, families typically request once or twice a week, sometime between 3 and 8pm. Because we are an accredited school, we also have some daytime students during the school year (plus Running Start and Homeschool students). Academy instructors typically work between 10 and 25 hours a week, depending on their availability, their skill set, and the demand we have of an instructor's particular subject(s). While there are no guarantees of hours, once you have a student, you'll typically have them for the rest of the school year.
Job Duration: Training begins immediately upon hire. The position commitment is until the end of the school year (mid or end-of-June) for year-round instructors. Successful instructors are always welcome to continue teaching through the summer and/or rejoin the team the following fall. Because you are working with students 1-on-1, their school club or athletic schedules will sometimes necessitate a change of schedule or even a change of tutor. However, most students stick to their schedule for the school year.
Locations:
Pacific Learning Academy has always worked with students 1-on-1 in their home or at local libraries. Due to the COVID-19 pandemic, we went 100% virtual until June 2021, when we shifted to providing face-to-face lessons at our Sammamish school office, in homes in the Sammamish and Issaquah area, and in local coffee shops. About half of our families will stay virtual and the other half are requesting in-person. Candidates MUST BE WILLING AND ABLE to work with students face-to-face. Please do NOT apply if you're only able to offer virtual lessons.
The Academy is not an online school (which typically does not include real-time interactions). We are a 1-on-1 special purpose educational service with real-time interactions and customized curriculums.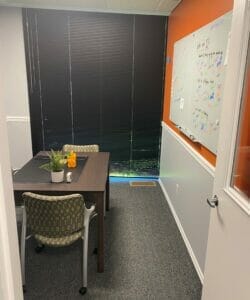 Online/Zoom conditions: 
Lessons may also be scheduled for Zoom instruction (family choice).
Instructors must have a webcam, mic, and comfort using (or learning) the Zoom platform
Instructors may conduct Zoom lessons from the location of their choice, including the Academy school office or their home.
Zoom lessons will require the instructor to have an area free of visual distractions or extraneous noise.
Zoom backgrounds should be professional/neat and appropriate for a learning environment.
Necessary travel: 
You will need reliable, private transportation to drive to your lessons in the Sammamish/Issaquah area. The Academy compensates for drive time between locations. We also serve students in other cities, counties, or out-of-state, meeting online in those cases unless a student's location is convenient to the instructor.
Physical Requirements: 
Instructor positions may require entering and working in student homes, public places such as libraries, and the Academy school office. The positions typically require: standing, walking, climbing stairs, using computers/laptops, lifting up to 20 pounds (books, backpacks, laptops), movements required for note-taking and explanation, talking, hearing, seeing and repetitive motions. These positions may be exposed to prolonged exposure to visual display terminals (some sessions are via Zoom), odors, inadequate lighting, and other elements inherent with teaching in client homes.
To Apply:
If you can accomplish the goals above and fit the requirements of this position, please apply now. We look forward to working with you!
APPLY NOW