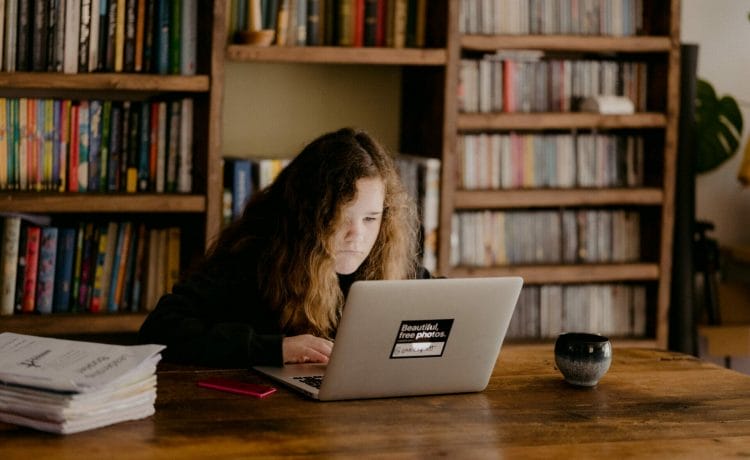 Education by Design during the Pandemic
Ready or not, families and schools across the country suddenly have found themselves trying to figure out "school" in a time when getting together puts students and teachers at risk. Even after the chaos of the spring of '20, many educators are still scratching their heads as we tackle the 20-21 school year, wondering how to best serve students in their virtual or hybrid classrooms. As a former classroom teacher, my heart goes out to them. They care deeply about their students and are putting in so much time and energy to make the best of a terrible situation.
What works (and doesn't) in our new COVID world.
If asked, of course most of us would say we learn best when we have in-person access to our teachers. At Pacific Learning Academy, we would far prefer to be sitting at your kitchen table, meeting at the library, or seeing a student at our school site in Sammamish. Unfortunately, COVID-19 has taken those choices away for now, at the Academy and at our local districts. What the districts are now doing would be classified as Remote Learning, with a combination of live (virtual) interactions with work done outside of the classroom. Remote learning with a district or typical classroom-based private school is still curriculum-driven. Before I tell you about the student-driven "Remote-Plus" that the Academy has in place, let's turn to E-Learning.
What is E- Learning?
Over the years, purely online courses have sprung up in many forms, from Brigham Young (BYU) independent studies to K-12 complete high school. Lessons are asynchronous (students aren't logged on at the same time as the teacher) and teachers tend to have even higher caseloads than they would at a traditional school. In this learning environment, a student's experience depends on the structure of the course, the instructor's ability to keep the class organized without live lessons, and the student's ability to seek engagement opportunities when presented.
Asynchronous learning has its benefits, especially for those who enjoy the autonomy from schedules and can work completely independently.  However, online classes are most difficult for struggling students who might need extra help, or for students who enjoy an interpersonal approach. Our extroverts might feel adrift, and some of our introverts may find it difficult to find points of entry into chat room conversations or message boards (if they exist).
The Academy's Remote-Plus learning environment, while remaining online, attempts to solve some of these traditional online learning challenges.
Benefits of Remote-Plus Learning
A few weeks before schools shut down due to COVID-19, the Sammamish, WA area had an extended snow storm. Our instructors and families easily moved to Zoom for this temporary event. We carried on, and everyone appreciated not having to drive in the snow. When the pandemic worsened, and then when schools shut down in early March in Washington State, Pacific Learning Academy was prepared. We'd already gone through this because of the weather event, and so a change to "Remote-Plus" learning was an easy transition. 
What is Remote-Plus learning? We see remote-plus learning as an extension of our in-person, one-on-one lessons. We might not be sitting at your kitchen table, but we'll be at our own kitchen table, "live" and focused on our one student during the entire session. Here are some of the benefits of live, remote-plus lessons, both for tutoring and for our accredited middle and high school courses: 
Academy lessons are personalized.

Are you particularly interested in a subject? Go deep! Do you really just want the basics you'd get at school? No problem. Can you only meet on Saturday mornings at 10 am? We can do that! 

Locations are flexible.

We meet you where you're at, whether that's your kitchen table or anywhere else with WiFi. Students are meeting us from home, from the road, from abroad, or from other states. 

Someone else is in charge!

Many of our families are still traumatized by having to manage their child's education last spring. Academy instructors have you covered. We're in charge of the homework and assessment discussions and we show our students where and how to complete their assignments. As long as your child knows Zoom, you're off the hook! 

No learner is left behind.

Traditional classrooms, online courses, and even the hybrid remote that districts are doing today can leave many learners bewildered and trailing the curriculum. Academy courses are designed and customized for one student, so there's no "keeping up" or getting bored issues. We're right there with your child throughout the process. 

Student-driven vs Curriculum-driven. We are helping students become the active, engaged learners they were meant to be. While all of our courses meet state standards and content is usually aligned to the student's home district, we have the philosophy of following the student rather than cramming through a curriculum at a pre-set pace. Our students dictate the pacing and by the time they are done, they are fully prepared not only to take the next level of that subject at school (or anywhere they choose), but have the ability to advocate and explore without fear!
Academy transcripts are accredited. All academic credit courses are on a transcript accepted by schools across the country and globe. The Academy is accredited, state approved, and even approved by the discerning NCAA. You get all the benefits of homeschooling, with an experienced professional instructor AND a transcript to prove your mastery.
Accelerated.

Pacing is a big reason students choose to take a course outside their school. Ironically, students who struggle in a traditional classroom (or e-learning platform) find that they will naturally cover more material and learn more in a much shorter time. That's the magic and beauty of

one-on-one learning.

No distractions (assemblies, fire drills, passing notes, movies, watching presentations), individualized lessons, adjustable pacing… these all allow a student to finish a course in 1/3 the time it takes at school. For a student who has experienced academic distress (or boredom if the class is going too slow!), the "just right" approach at Pacific Learning Academy is a breath of fresh air. 

A calm environment.

Many students love the hustle and bustle of the school day. For those that find crowded hallways and noisy classrooms to be overwhelming, there's a peace and quiet aspect of one-on-one learning. Our Zoom calls with students can definitely be interrupted (cats really do go wherever they want), but the freedom to create their learning environment is a true treat for students who are used to having others dictate their learning. 

Homework.

Academy students may also negotiate how much and what kind of homework they do. With the

focus on Mastery

, students are doing what they need to do to progress and also prove and document their performance. If a student is ready to take a test, even before they do 60 practice problems on the topic, they can do so! 
If you'd like to learn more about Pacific Learning Academy's Remote-Plus programs, drop us a line on our Let's Talk page or call our office Monday through Thursday, 10am to 5pm.
Pacific Learning Academy is a one-on-one school offering single courses and dual enrollment, as well as full-time middle and high school. Pacific Learning Academy is Washington State Approved via the Office of Superintendent of Public Instruction (OSPI — see listings HERE) and a nationally Accredited private school via AdvancED/Northwest Accreditation Commission (NWAC). High School coursework is approved by the National Collegiate Athletic Association (NCAA). We also offer tutoring in all subjects from 6th to 12th grade, including test prep, either in-home or local libraries across the Eastside (Issaquah, Sammamish, etc…). See more at www.PacificLearningAcademy.com
January 1, 2021