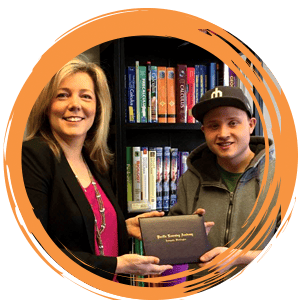 Kirsten O'Malley, Executive Director & Founder
An experienced educator and administrator, Kirsten has earned a reputation as a lively and knowledgeable teacher with extensive training in cutting-edge language teaching techniques, educational software, and holistic approaches to encouraging student success. Her years of experience in public and private education, interest in local school policies, and graduate work in language education have provided Kirsten with a unique understanding of the challenges facing students today. She shares what she knows and actively seeks out professional development opportunities to remain at the top of her field.
Originally from Fairbanks, Alaska, Kirsten has enjoyed a career that encompasses teaching at the University of Guadalajara, Mexico, and, thanks to a one-way ticket from a relative, language schools and corporate training in Buenos Aires, Argentina. While in Argentina, Kirsten began learning Japanese and later moved to Japan to teach middle school via the Japanese Exchange of Teachers (JET) Program. In her third year in Yamanashi-ken, Kirsten began teaching Spanish to a local group of teachers preparing to live and work in a Japanese school in Santiago, Chile. Teaching Spanish brought a lot of joy as well as challenges and she soon moved to Vermont to pursue two Masters Degrees in Teaching English and Spanish, as well as K-12 Certification. She moved to Seattle in 2001 where she joined the 1-on-1, non-traditional educational community and hopes to stay in this wonderful environment for the remainder of her career.
Community involvement is a mainstay of the Academy's philosophy of helpfulness and support. Kirsten is a member of the Eastside civic and giving community, serving as the Sammamish Chamber President in 2005, volunteering on the SAMMI Awards of Distinction Advisory Board ('05), and serving as the Head Interviewer for the SAMMI Awards Business Category ('06-'08) and Teen Spirit Category ('09). Kirsten was also a 2005-2008 student of the inaugural class of Leadership Eastside, a development program focused on enhancing leadership capabilities and building a regional perspective. Under Leadership Eastside, Kirsten was a member of a team exploring Civic Engagement on the Eastside and is (still!) learning the methods and techniques of Appreciative Inquiry. From 2007, Kirsten enjoyed spending 10 years as an Issaquah Schools Foundation Trustee, serving as the Foundation's Secretary ('07-'08), and VP of Programs ('08-'10), as well as a number of years as a Programs Manager for the Foundation, overseeing the After School Homework Help (high school level) and the Targeted Academic Intervention Programs. Pacific Learning Academy is now the main underwriter bringing free after-school homework help to every high school student in the district.
Kirsten's passion is education, especially learning how to best work with and empower students whose needs are not being served in the traditional school environment. She believes that choice in education benefits all of us, and loves seeing her students succeed and thrive!
Lois Bauer, Academic Coordinator
Lois works with Kirsten and the Academy team to provide additional support to Pacific Learning Academy staff and instructors. She meets with families to choose the best fit instructor and provides oversight for ongoing academic programs. Lois comes to us with a background in alternative schooling for her own children, years in Program Management at Microsoft, and as an active volunteer supporting learning and education in the schools and communities of Issaquah and Snoqualmie Valley. Lois has a BA with Distinction in Germanics from the University of Washington in Linguistics and German, with emphasis in Math and Computer Science. In addition to being the mom of two college students who previously used Pacific Learning Academy services to great success, she enjoys walking (training for half marathons), baking, gardening, crafting and quilting.
Michele S, Academic Coordinator
Michele is originally from Colorado and graduated from the University of South Florida. She enjoys traveling and taught English in South Korea. Michele loves to participate in the Star Wars half marathons at Disney. In her free time, she volunteers with Scouts BSA, Jr. League of Seattle, PTSA, and Overlake Panhellenic.
Jodi Collins, Academic Coordinator
Jodi is originally from the Midwest and has lived in the Snoqualmie Valley for over a decade. She has an educational background that goes back over 20 years, spanning everything from public school teacher to homeschool teacher. Jodi works as an academic coordinator at the Academy and is looking forward to helping your family find the best educational fit. When she isn't working, Jodi loves to travel and explore with her family and friends. She also loves spending time with her golden retriever and reading!
Regan Edwards, Accreditation Coordinator
Regan is a National Board Certified teacher and works with the Academy as the Accreditation Coordinator. She attended the College of Charleston (SC) and Florida International University (Miami, FL) where she studied education for students with learning disabilities. Regan worked as an educator in the Bellevue School District and gained her NBC in 2018. She worked on projects and programs that emphasized inclusion and program differentiation in several BSD schools. Regan grew up on the East coast as an avid sailor and spent 2001-2007 working as a translator for an Italian America's Cup team. The job gave her the opportunity to live in Italy, New Zealand and Spain.  Now that she is settled in the Pacific NW, Regan spends her free time boating, biking, and volunteering for organizations such as the Center for Wooden Boats and Girls on the Run.
Karen Zeivel, Office Manager
Karen is a 30-year Sammamish resident. She has been involved in our local schools as a classroom helper, PTSA board member, and substitute classroom aid in both mainstream and special education. In addition to public school volunteerism and leadership, Karen has also provided administrative support for Montessori/private education before coming to Pacific Learning Academy. Karen has been with the Academy since 2010 and has watched both the school and our students grow!
Sam Smith, School Administrative Assistant
Sam is from Bellevue and graduated from Whitworth University with a degree in Spanish and International Studies. She has a Masters in Spanish teaching from Middlebury College and lived in Madrid, Spain as well as the Canary Islands, where she taught English. She has tutored Spanish for many years and loves to give students a good experience with learning the language. Her love for Spanish is rivaled only by her love for books, though she can also often be found enjoying the outdoors in all weathers. Sam has been a long-time teacher at the Academy and continues to teach as well as serve as the School Administrative Assistant.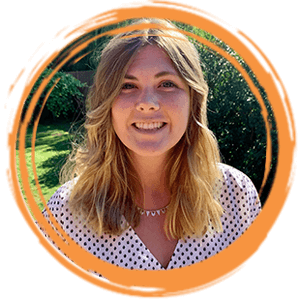 Elizabeth Dowling, Marketing Coordinator
Elizabeth works with the Academy team to curate and create content that communicates the Academy's values and services. She attended Gonzaga University where she studied English Literature, Spanish, and Digital Marketing. Growing up, Elizabeth always wanted to be a teacher and is now delighted to be able to use her creative marketing skill set to help students receive the personalized support and education they need. Elizabeth grew up in the Snoqualmie Valley and enjoys spending time outdoors hiking, biking, and camping. She also spends a lot of her free time reading, designing, and taking care of her houseplants!