Local high school teachers treated to on-site, hand-delivered coffee drinks.
Pacific Learning Academy hosted a coffee cart at Skyline High School to thank the teachers and staff for all that they do.
As a former classroom teacher (Alaska, Vermont, Japan, Mexico, and Argentina), the Academy's owner, Kirsten O'Malley, knows how hard  teachers and staff work for their students. Sometimes something as simple as a cup of coffee can make a difference (and help with focus!). To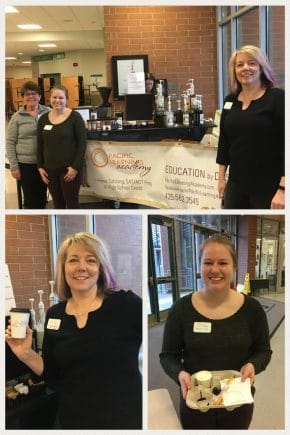 thank teachers and staff for all their hard work and effort throughout the school year, Pacific Learning Academy loves any chance to host a coffee cart at local high schools to say thank you and brighten our teachers' day.
On Monday, January 29, Pacific Learning Academy, returned to Skyline High School for the second time. Skyline HS staff completed their orders online and Kirsten and her team delivered the drinks.
It's a simple gesture, but very gratifying. "I love these type of events. We feel good showing up with caramel macchiatos, Italian sodas and hot chocolates, sharing our appreciation for all that our classroom teachers and local staff do," says Kirsten. "We share so many students, and working one-on-one is a dream for Academy teachers, so this is our way of saying Thank You for those that have much harder jobs in the classroom. Plus, seeing a smiling face when we deliver great coffee is such a joy. It's probably my favorite community service of the year!"
Pacific Learning Academy also recently hosted a coffee cart at Issaquah High School and will be hosting another at Eastlake High School this spring.
Special thanks to Debbie and Natalie (our awesome runners and PLA staff), and Deyon Johnson, who owns Gourmet Espresso Catering (visit Gourmet Espresso Catering to learn more!).
Pacific Learning Academy is a one-on-one school offering single courses and dual enrollment, as well as full-time middle and high school. Pacific Learning Academy is Washington State Approved via the Office of Superintendent of Public Instruction (OSPI — see listings HERE) and an Accredited private school via AdvancED/Northwest Accreditation Commission (NWAC). High School coursework is approved by the National Collegiate Athletic Association (NCAA). We also offer tutoring in all subjects from 6th to 12th grade, including test prep, either in-home or local libraries across the Eastside (Issaquah, Sammamish, etc…). See more at www.PacificLearningAcademy.com.
February 14, 2018