Pictured: 2018 Pacific Learning Academy Graduates from left to right, Sophie Truax, Ric Beuchat, Nick O'Donnell and PLA Founder, Kirsten O'Malley.
We're so proud of our 2018 graduates!
Graduates, their family, and friends joined Academy staff to celebrate their accomplishments.
On June 14, Pacific Learning Academy honored 3 graduates at a special ceremony to celebrate the end of their unique and customized high school careers.  Sophie, Nick and Ric were surrounded by family, friends, and teary-eyed instructors as all had the chance to share words of celebration not only for their academic accomplishments but for the amazing young adults they have become.
Pacific Learning Academy provides support and guidance to students seeking alternative credit options. Many of our students are already enrolled at a local high school, and have arranged to take just one or two "outside credits" with the Academy. Other students may transfer credits to the Academy and eventually graduate under our diploma. Sophie, Nick and Ric all came to Pacific Learning Academy for different reasons, but shared the need for a more personalized education. Read more below on each of the graduate's stories and their future plans post-graduation.
Sophie Truax took a number of classes with Pacific Learning Academy throughout her high school years, excelling in each area from the get-go. An incredibly talented artist and musician, Sophie always enjoyed and embraced the opportunities her instructors gave her to incorporate her talents into her course work. An accomplished writer and avid reader, Sophie processes material and ideas quickly and thoroughly, and consistently wrote papers and completed projects that rivaled those of students well into their college careers. She has been driven to strengthen her skills in pursuit of these interests and in growing in her art, so her motivation throughout her Academy career has been consistent and a joy to watch flourish. She graduated a year early, so now is contemplating a "gap year" before moving on to her next challenge—art school, perhaps? Whatever she chooses to do, we are confident she will succeed on her own terms!
Nick O'Donnell also took classes with the Academy for most of his high school years. A talented athlete, Nick faced unexpected health challenges early in high school that ended up leading him to the Academy for help in keeping up with his workload. It soon became clear to his instructors that Nick is a very original thinker, has a strong independent streak, is very comfortable with himself and likes to find his own ways to success. Recognizing this, his instructors worked with Nick to figure out his best learning styles and collaborated with him on ideas for projects, assignments, reading, etc. It wasn't long before Nick's grades skyrocketed along with his confidence. As his health improved, he discovered a love for the outdoors that has become his passion. This Fall, Nick is attending a National Outdoor Leadership School (NOLS) program in the Patagonia region of South America. To prepare for the trip, Nick has  already summited Mount St Helens and Mount Rainier this summer! Nick now knows he can literally handle anything that comes at him.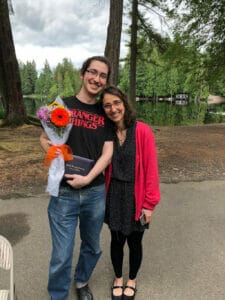 Ric Beuchat was a student who had made room on his schedule for a very busy Running Start quarter, but didn't have time to take Health without giving up Calculus. Ric came to the Academy to complete the Health course so that he could continue taking the Calculus series at Bellevue College and graduate on time. Ric is a thoughtful, cerebral and aware young man who navigates the world with a positive and easy nature. He is working (two jobs!) and we're glad to know that others now have the opportunity to get to know Ric's generous, gentle, and quick-witted personality. In addition to the two jobs, Ric is currently taking online programming classes. Since he seems to be in charge of fixing everyone's computers in the family, that makes sense! We also look forward to hearing if Ric makes his way into the computer science realm at some point!
"We are very proud of our 2018 graduates and their accomplishments to date. We are honored to provide students education by design and provide the support they need for out-of-the box high school experiences and developing ownership over their life-long learning. These three are so unique and are already making their mark on the world," says Kirsten O'Malley, Founder of Pacific Learning Academy. "We wish them the best of luck in the next chapter of their lives — and they better keep in touch!"

Pacific Learning Academy is a one-on-one school offering single courses and dual enrollment, as well as full-time middle and high school. Pacific Learning Academy is Washington State Approved via the Office of Superintendent of Public Instruction (OSPI — see listings HERE) and a nationally Accredited private school via AdvancED/Northwest Accreditation Commission (NWAC). High School coursework is approved by the National Collegiate Athletic Association (NCAA). We also offer tutoring in all subjects from 6th to 12th grade, including test prep, either in-home or local libraries across the Eastside (Issaquah, Sammamish, etc…). See more at www.PacificLearningAcademy.com
August 8, 2018